FAO and WFP will organize a technical webinar, on May 12 at 9:00 am (Barbados time), entitled School food and nutrition policy and legal frameworks School meal nutrition guidelines and standards – a tool to support the right to food.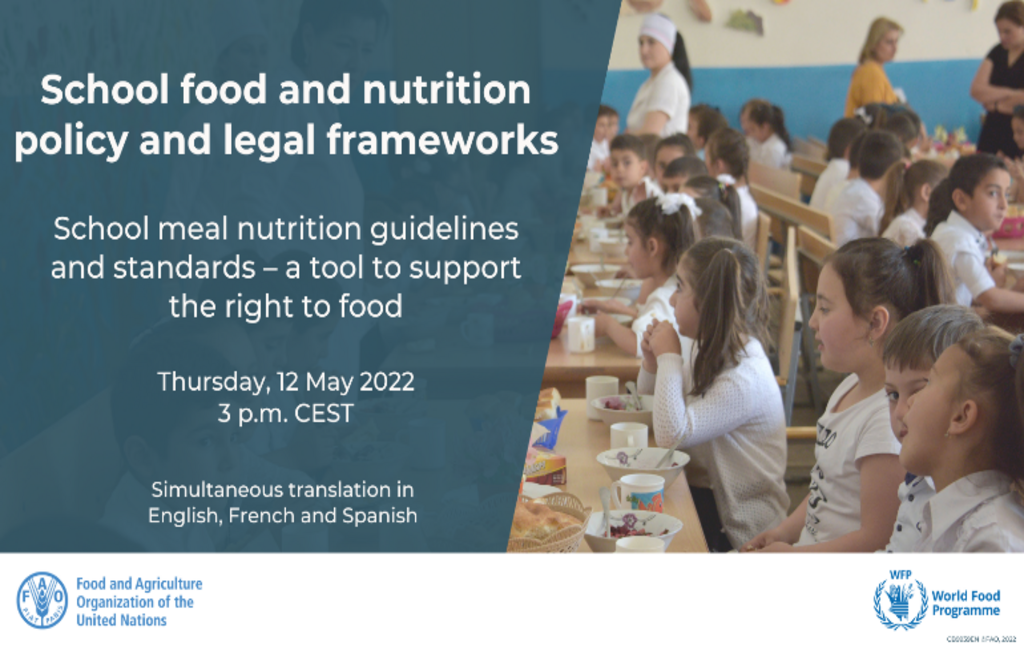 School food around the world plays a key role in the life of millions of children and adolescents, and for this reason it must respond to their nutritional needs. Nutrition guidelines and standards (NGS) are rules and regulations designed to improve the quality and adequacy of foods and meals in schools, and their adequate implementation can contribute to ensuring the right to food for children and adolescents. To introduce NGS and enhance their impact, the appropriate legal and policy frameworks need to be in place.
The webinar will focus on the importance of these policy and legal frameworks, and present broad recommendations for their development. Technical experts will outline the key concepts while country stakeholders will illustrate how NGS have been incorporated into policies and legislation in their own contexts, showcasing lessons learned as well as the main issues and challenges encountered in the process. In particular, the event will focus on the following aspects:
• The importance of policy and legislation for improving the quality and adequacy of school food.
• The reason why nutrition guidelines and standards can be a tool to support children's right to food.
• The need for a human rights-based approach to school food and nutrition policies and legislation.
The event will be held in English with live interpretation in French and Spanish available. Esperamos que el evento sea de su interés.
Please register here to participate in the event: https://fao.zoom.us/webinar/register/WN_00yLn12nQaKxq7tEYKogwg