In interview with the RAES plataform, Rafael Zavala highlights the importance of school feeding programmes in tackling food insecurity
Paulo Beraldo
Following the release of a global report showing that food insecurity affects 4 out of 10 Latin Americans, the FAO Representative in Brazil, Mr. Rafael Zavala, affirms that work must be done to strengthen existing public policies that already contribute to reduce food insecurity, such as school feeding programs, public purchases from family farming and social protection programs.
In an interview with the RAES platform, Mr. Zavala, who has been in Brazil since 2018, says that the country knows how to reduce food insecurity and inequality in cities and rural areas. He recalls that Brazil developed five strategies that made the country advance and become a regional and global reference.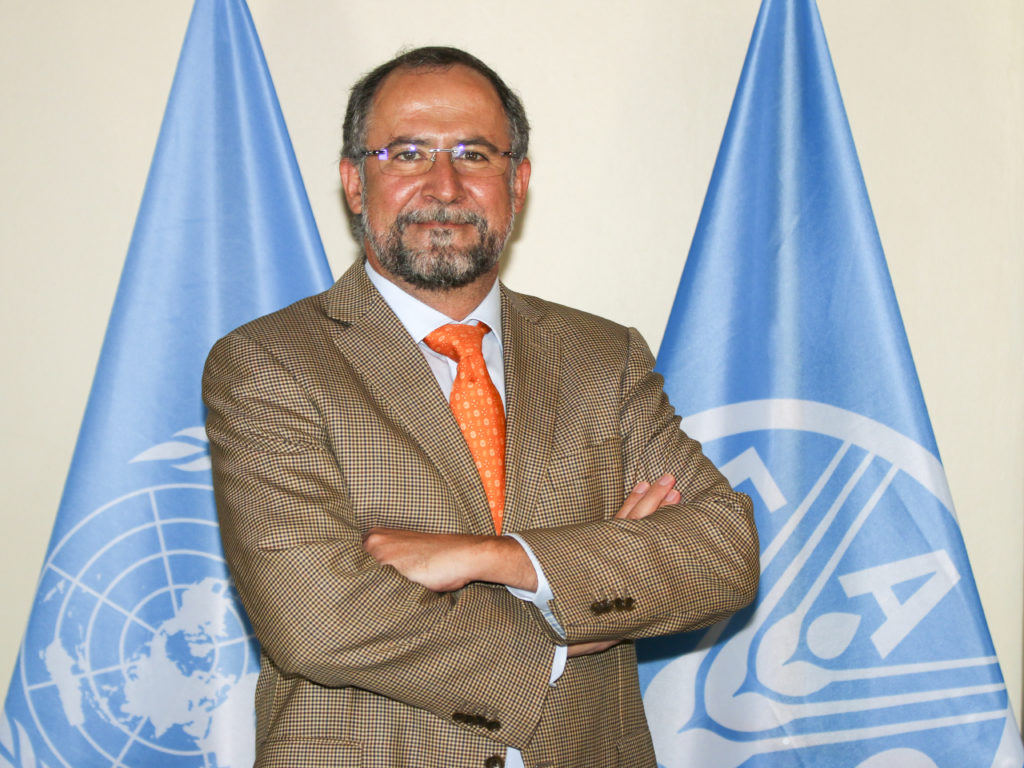 The first strategy is to fight against hunger. The second is to increase incomes by raising the minimum wage. The third one is to create jobs. The fourth point is to strengthen school feeding, as well as community kitchens and restaurants. And finally, the fifth one is to strengthen family farming through institutional purchases, both for schools and other public establishments.
"Brazil has excellent experiences with public policies that can be scaled up and have the tools and knowledge to move towards meeting the goals of ending hunger," he says. "Fortunately, the country, through the Brazil-FAO International Cooperation, has made available several of these initiatives to countries since 2009 and has contributed significantly to regional development." Below is the full interview.
Data from the State of Food and Nutrition Security in the World (SOFI 2022) report show a significant increase in food insecurity in Latin America and the Caribbean. There are 56 million hungry people and another 93.5 million people in a situation of severe food insecurity. What can countries in the region do to reduce food insecurity?
Countries must work to rebuild economies, which have been severely damaged by the COVID-19 pandemic. It is also necessary to look closely at women, especially those working in rural non-farming jobs, in service and industrial sectors, linked to tourism and food preparation. Despite the pandemic, agriculture continued to advance, but unfortunately, all jobs done by women related to tourism, trade, and manufacturing, have been disrupted.
We know that hunger in the Latin American and Caribbean region is a problem of lack of income, inequality, and poverty. It is not for a lack of food, especially because the region is the main net exporter of food, and produces enough to satisfy the food demand of twice its population.
Social protection and income transfer programs directed to the most vulnerable populations are fitting examples of public policies at this moment, as well as the strengthening of school feeding programs and public procurement. In addition, I want to emphasize that hunger is not only a challenge for national governments, but also municipal, state, and civil society governments, both in Brazil and throughout our region.
You cited the strengthening of existing programs, such as school feeding and public procurement. How do you ensure the permanence of these policies?
It is crucial that civil society takes action and that the political class is aware of the importance of these policies in Brazil and the region. School feeding programs regularly provide food to about 20% of the country's population and reduce the pressure of food insecurity, which has been observed in the pandemic period.
In addition, they boost the local economy with public purchases from family farmers around schools, acting against hunger in a cross-sectional way and generating benefits for all involved in this broad chain. I like to say that school feeding is a win-win policy, a "gamechanger", and a great driver to promote fairer, more sustainable, and resilient food systems.
What is the impact of this policy today in our region?
Every school day, Brazil's 41 million students have access to fresh, healthy, and nutritious food, most of which are purchased from local family farmers. Furthermore, these programs implement food and nutrition education actions, which are especially important to promote healthy and sustainable consumption habits in new generations. In our region, 85 million students are served, and we need to strengthen and consolidate school feeding programmes, as the Brazil-FAO International Cooperation has been doing.
Governments should encourage the sustainable production, supply, and consumption of nutritious food. Healthy diets must be less costly and more accessible, which can be ensured by supporting family farming. Supporting family farming means generating income for millions of people, promoting local territorial development, reducing rural migration, and ensuring healthy and nutritious food for populations.
We have another challenge in our region, which is the increase in obesity, because of the consumption of unhealthy food. This problem also affects children, who will be the future's consumers, and if they are overweight, we will have a generation with non-communicable diseases in the future. Can you talk more about the role of school feeding to face this challenge? 
This is another key point of school feeding. Through the implementation of food and nutrition education actions, school feeding allows students to become aware of the nutritional and environmental impacts of their consumption choices. This is knowledge for life, a knowledge that radiates to their families and their future.
Therefore, in addition to guaranteeing healthy and nutritious food for students, by connecting the purchase of food to family farming, the school feeding program promotes the income and development of local farmers. It is essential for the transformation of food systems to ensure the construction of short circuits of production and consumption.
Parallel to this, it is necessary to develop policies capable of promoting changes in consumer behavior that will have results in health, the environment, and various other sectors. Ending hunger and obesity will only be possible if we transform our food systems to provide better nutrition, better production, better environment, and better quality of life, leaving no one behind.